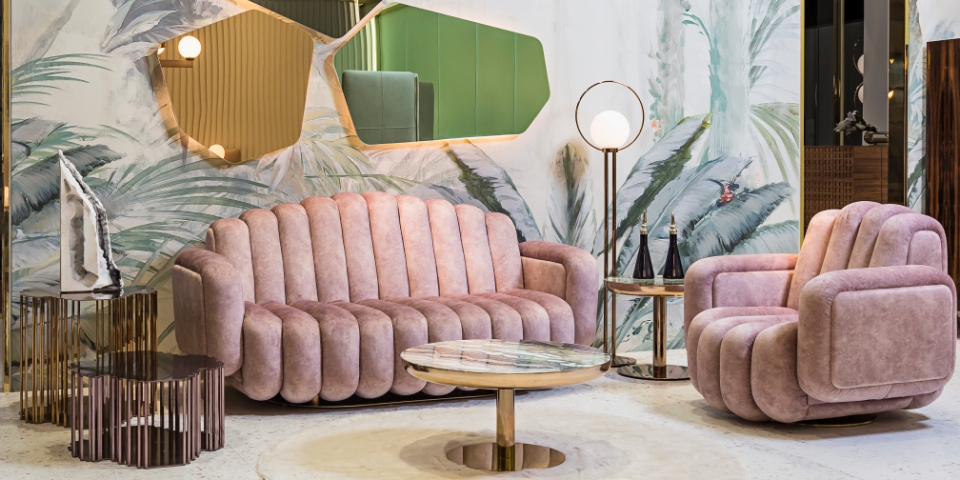 Showcasing its work at Salone del Mobile.Milano 2019, Brianza-based designer Clan Milano lifted the lid on his cushy new pink velvet collection − the Oblomow.
The collection was designed by Italian artist Alessandro La Spada. Having worked as a lecturer in furniture design, La Spada has gained momentum to become on of the biggest names in Italy's style circles, collaborating with brands including Visionnaire, Antolini, Besana, La Murrina, Longhi, Milldue and Smania Industria Italiana Mobili.
However, his latest work steps away from the artist's trademark rockstar motifs of black and gold, opting instead to create a quirky sofa determined to redefine any living space. Built in equal parts comfortable and whimsical, the sofa uses oblong figures and powder-pink velvet which, when combined with a total lack of harsh edges, creates a sense of serenity described by the brand as "sweet idleness". The sofa is also available as a comfy (if not slightly sausage-shaped) chair.
This marks one of several products showcased at Salone de Mobile.Milano, with the brand seizing its opportunity to bring to light the extravegencies of its new INTERNO C. catalogue. However, the Oblomow collection isn't the only collection to feature in the catalogue, with Clan Milano also bringing to light its 1950s-inspired Einstein collection, comprised of a bed with upholstered headboard; as well as a divider equipped with a mirror; an applique; a shelf and a regal ottoman.
The INTERNO C. catalogue also includes Clan Milano's marble and pink gold Frank Table, the cafe-reminiscent Tonietta chair and the glass Bell Jar lamp, as well as items from the Vintage, Marie, Granny Motecole, Molly and Capsule collections.
Each product created by the brand has been hand-crafted to fit the specifications of customers across residences, public spaces, hotels and showrooms, blending cultural tradition with classic craftsmanship to create bespoke furniture worth being marvelled at.
For more information, visit the Clan Milano website.