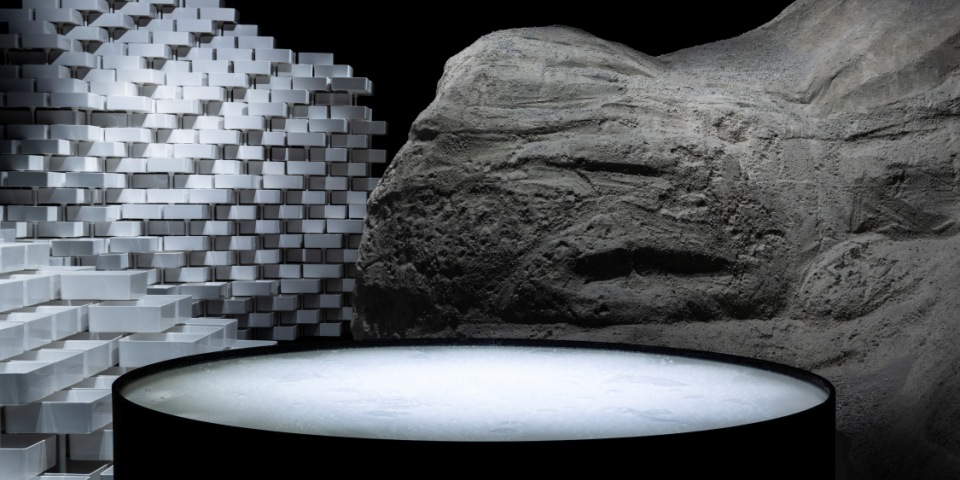 Laufen, one of the most renowned names in bathroom design, has collaborated with the interior designers at Snarkitecture to bring a deconstructed installation for Milan Design Week.
Titled 'MATERIALMESSAGE', the installation was designed to give viewers an insight into Laufen's 127-year long career in the ceramic industry, incorporating elements such as clay for a stripped-back interpretation of the brand's intricate construction process.
Speaking of the installation at Milano Design Week, a spokesperson for Laufen explained, "We think of Snarkitecture as being engaged on this search for the unknown, to discover the unexpected. For us, the opportunity to work in ceramic, with a company like Laufen, was unexplored territory.
"In a very direct way, the project was inspired by our visits to the Laufen production facility in Basel. Seeing the simplicity and beauty of the raw materials being transformed into beautiful, precise objects has a magic quality to it; we were looking to capture some of these moments in the installation, to share them with a larger audience," they continued.
Known for its ability to mesmerise viewers with its multi-sensory approach to art, Snarkitecture's exhibition was held inside the bustling streets of Milan's 5Vie district. The installation housed a mountain of clay, stood alongside a pyramid of laufen washbasins created using the brand's cutting-edge SaphirKeramik material. Between them, a pool of water and kaolin (clay) provided a glimpse into raw materials behind Laufen's celebrated bathworks. Various unfiltered photographs from the company's production facility in Basel were also scattered around the room, filling in the blanks with various stages of Laufen's creative process.
"One of the more impressive things about the production process of Laufen is how much it relies on the skill and technique of the people that produce it," the spokesperson explained. "I think many people - especially those outside of the world of designing and making things - don't give so much thought to how the objects and buildings in our world come to be. It's easy to look at a basin or a toilet and imagine that it's automatically made by a robot somewhere, but in visiting the Laufen factory it was impressive how much the final product relies on a human eye and touch."
Determined to make an impression at Milano Design Week, Laufen also revamped their flagship Milan store, presenting its latest creations from the Kartell collection, including seventies-inspired furnishings, accessories, fixtures and faucets.
For more information, visit the Laufen website.