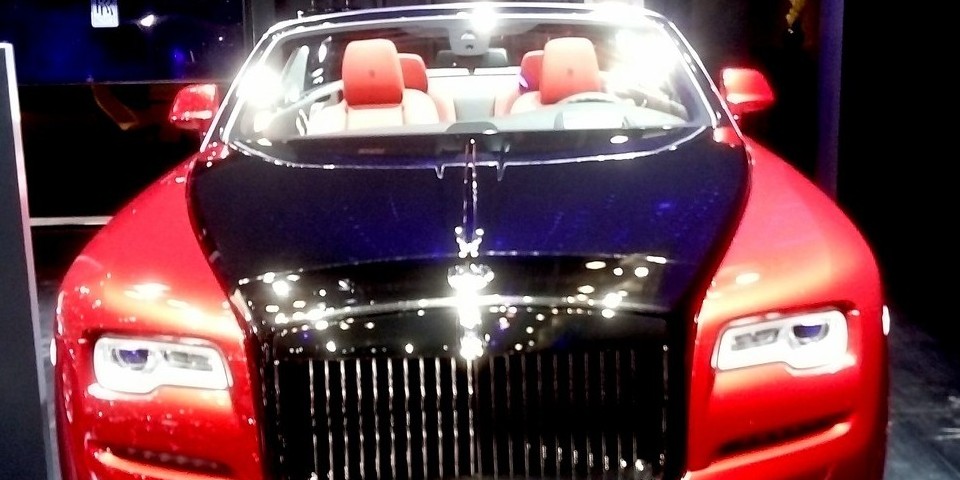 The Rolls-Royce Dawn Black Badge is unashamedly for the younger customer, the one who prefers to do the driving. (Photo: Georgia Lewis)Rolls-Royce is a grand old automotive brand associated with the older driver - or indeed the person who prefers to be driven rather than to take the wheel. It is no surprise that Rolls-Royce has for years been a favourite for those who hire a chauffeur but with the Rolls-Royce Dawn Black Badge, all that could be set to change
On display this week at the Dubai Motor Show, the Dawn Black Badge stands out among the extended wheelbase models which are clearly designed for luxuriating in the back instead of being part of the action up front. Unapologetically aimed at a younger driver, the Dawn Black Badge is a gloriously over-the-top convertible which adds a serious dose of fun to the Rolls-Royce line-up.
The model on display in Dubai was a brash and bold festival of rich orange-red and black inside and out - but naturally it can be customised. At the Dubai Motor Show, there were two examples of how dashboards can be customised including a design featuring pear-shaped amythests and another with iridescent black feathers and mother-of-pear inlays on the clock.
Under the hood is a beast-like 6.6-litre twin turbo V12 pumping out 593bhp and 840Nm of torque, all mated to an eight-speed automatic gearbox.
Other Rolls-Royce models at the Dubai Motor Show were made for the chauffeur-driven market. The Rolls-Royce Ghost Extended Wheelbase was designed with the Middle Eastern market in mind - Arabic calligraphy adorned the dashboard and the interior of navy blue and turquoise leather was reminiscent of the sea colours which inspired the interior design of the famous Burj Al Arab hotel.
Resplendent in Belladonna Purple, the Rolls-Royce Phantom Extended Wheelbase was attracting plenty of attention with its Arctic White leather interior and super-soft purple lambswool floor mats. It was definitely one for the chauffeur market - your Elite Living Africa correspondent was asked by a very polite gentleman if she could take his photograph sitting in the back seat rather than the driver's seat.
But the Dawn Black Badge is definitely one for the affluent young driver, the one who probably won't be shy about taking a selfie before they hit the road away from the watchful eye of the chauffeur.