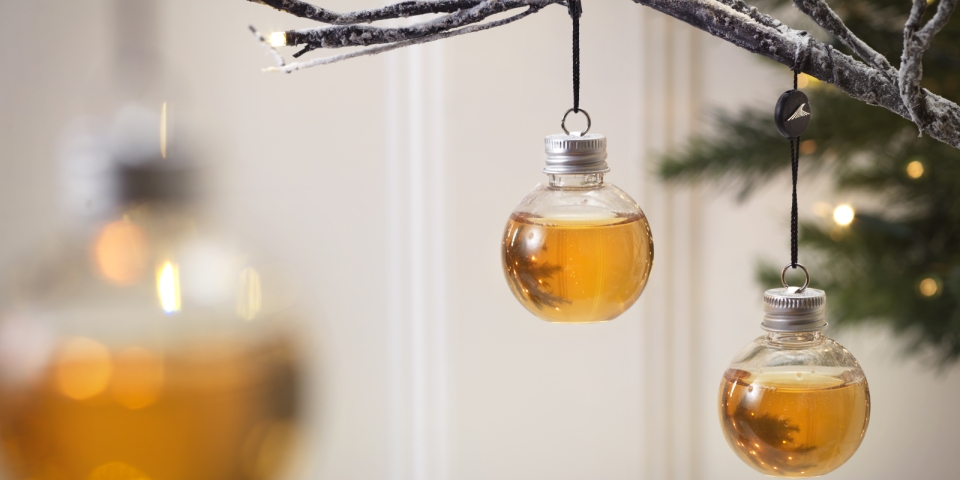 Luxury Christmas baubles from The Lakes Distillery. (Photo: Lakes Distillery)The Lakes Distillery's luxury bauble gift sets presents their new 'Spirit of Christmas' baubles in on-line spirits retailer, Master of Malt
The demand for luxury baubles has spiked in recent years, resulting in shipments to USA states including: Arizona, Hollywood, Minneapolis, Chicago, Florida, Illinois, New York and Texas. Interest has also grown from the Ukraine, Germany, Netherlands and Russia.
The Lakes Distillery gained its first listing in World Duty Free earlier this year. Manchester Airport, Liverpool Airport and Newcastle Airport listed The Lakes Gin 70cl, along with airports in Australia and New Zealand listing 3 of the award-winning spirits in their airport retail outlets.
The airport listings will see customers arriving and departing via the airports being introduced to The Lakes Distillery brand, gifting and spirits portfolio. The ONE British Isles Blended Whisky launches into UK World Duty Free in January 2018.
The Lakes Distillery baubles are perfect for airport customers who want to take some Christmas 'Spirit' from The Lakes District as the baubles can now be found in 14 UK airports, including: Birmingham, Edinburgh, Gatwick North and Gatwick South.
The Lakes Distillery's 'Spirit of Christmas' Baubles, are 5cl and 20cl baubles which have been lovingly hand-filled with the award-winning spirits. The range includes a selection of single 20cl baubles with exquisite ribbon containing either The Lakes Gin, The Lakes Vodka or The ONE British Isles Blended Whisky. Also available are gift sets containing six 5cl baubles filled with the spirits of The Lakes Distillery, with a whisky set, a vodka set and a gin set.