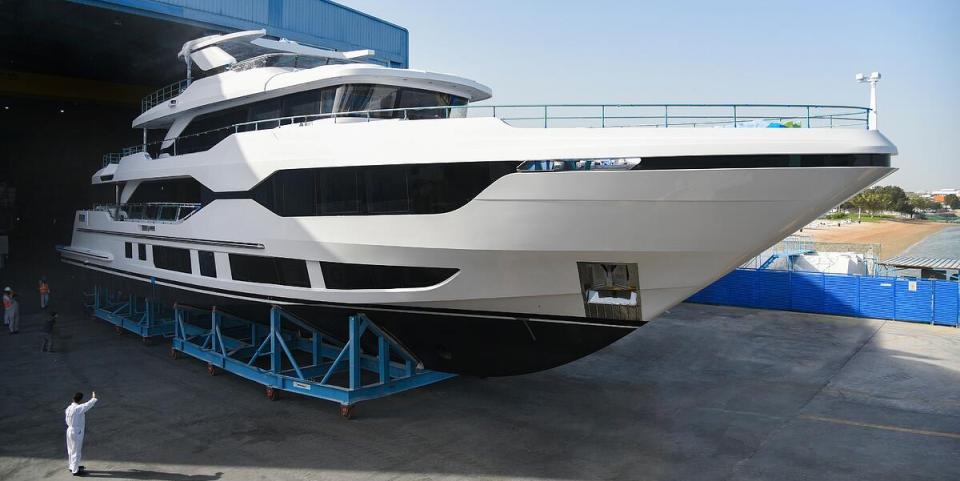 UAE-based Gulf Craft has announced the launch of its new superyacht, the 37-meter tri-deck Majesty 120.
The superyacht is constructed using advanced composites such as GRP and carbon fibre.
The superyacht is the first-ever Majesty Yacht model to have its onboard equipment fully electrically powered, with no hydraulic systems being used. The result is a noise-free environment and a less demanding maintenance lifespan. Only the engines and generators remain powered by conventional diesel methods.
The superyacht's dynamic exterior profile features angular lines and contemporary styling. The shipyard's in-house design team followed the new DNA of Majesty Yachts – Superyacht Collection as featured on the award-winning Majesty 140. One of the vital features onboard is the vast sun deck space, which is 30 per cent larger than yachts in its class.
The Italian studio of Cristiano Gatto Design Team undertook the interior design, following their collaboration with Gulf Craft in the design of the Majesty 175 and the interior of the Majesty 140. The team worked to a brief that called for a minimalistic yacht to meet international tastes, resulting in modern and contemporary interior design.
The Majesty 120 accommodates up to 11 guests across five spacious staterooms, which are look looked after by seven crew members.
Paul Gray, Gulf Craft chief operating officer, said, "The Majesty 120 is a superyacht perfectly tailored to suit European and American markets, as well as appealing to our home GCC territories. This truly represents the start of a new era for our company as we strive to bring more to the yachting world with every new product launch."
Nizar Tagi, chief commercial officer, said, "The superyacht tri-deck Majesty 120 has ample features and smart layout configuration that opens its market opportunity to international markets."