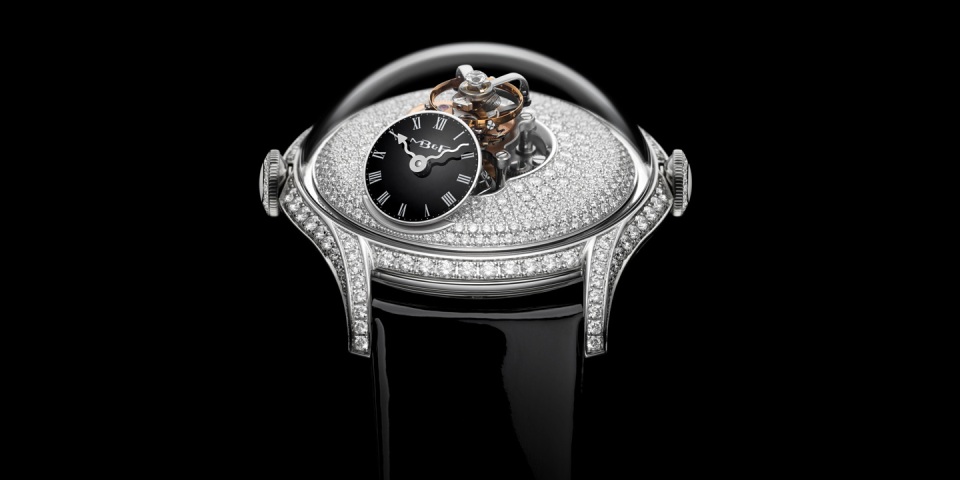 The first MB&F timepiece dedicated to women, The Legacy Machine FlyingT, has won the prize for "Best Ladies' Complication' at the Grand Prix d'Horlogerie de Geneve.
This new prize is in fact the brand's fifth Grand Prix award, joining a series which started in 2010 with the HM4 Thunderbolt, followed by Legacy Machine No.1 in 2012 (two awards, both for Best Men's Watch and the Public Prize), and most recently in 2016 with the LM Perpetual (Best Calendar Watch).
Inspiration for the Legacy Machine FlyingT came from the combination of qualities that characterise the greatest feminine figures in Maximilian Büsser's life: elegance was key, but so was an infectious energy that could captivate an entire roomful of people.
The round case with slender, elongated lugs is fully set with diamonds. An extravagantly convex dome of sapphire crystal rises from the bezel. Beneath the dome, a subtly curved dial plate, liquidly black with layers of stretched lacquer or glittering with blazing white diamonds. A flying tourbillon projects high above the rest of the movement, a dynamic column that stops just short of the apex of the sapphire crystal dome. At the 7 o'clock position is a dial of black or white lacquer that displays the hours and minutes with a pair of elegant serpentine hands. The dial is inclined at a 50° tilt; only the wearer can read the time, an intimate communication that highlights the personal nature of LM FlyingT.
On the reverse, the automatic winding rotor takes the shape of a three-dimensional red sun with sculpted rays, providing 100 hours of power reserve.