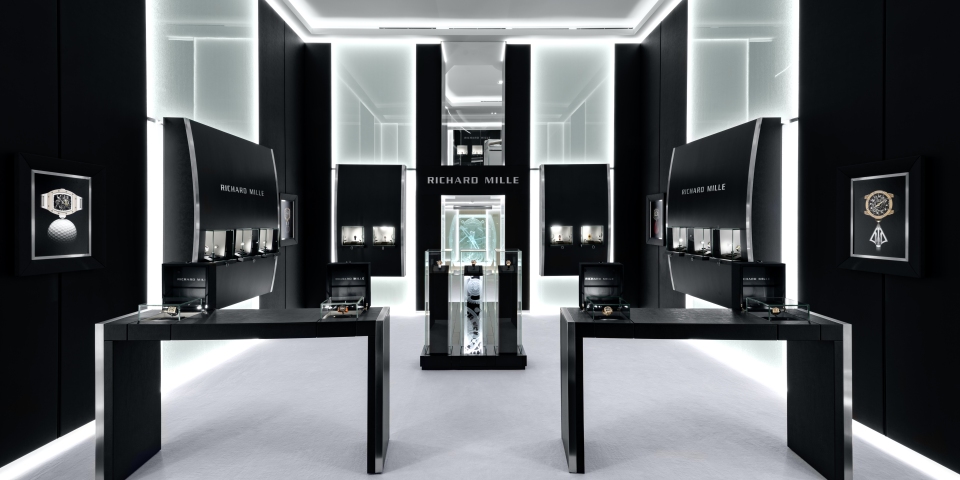 Richard Mille has announced the opening of its first dedicated boutique in Russia
It is located on the distinguished Stoleshnikov Lane, in a neighbourhood that hosts some of the most prestigious luxury brands. On the heels of successfully opening a number of new boutiques in Europe and the Middle East, this is an exciting time for the brand to reveal its latest boutique in Russia's capital.
Peter Harrison, CEO of Richard Mille Europe, Middle East and Africa comments: "Russia has a rich history of luxury objects and development of unique products for a discerning market. Moscow is a pivotal capital city, not just for Russia but for many of the eastern countries close to it. It was therefore natural that Richard Mille should have a flagship store in this historic and vibrant city".
The boutique occupies two floors and showcases some of Richard Mille's most emblematic boutique features like a Macassar Ebony floor, Sophie Mallebranche's cream and silver wallpaper or black leather walls.
From the ground floor, visitors can see the on-site watchmaker at work on the first floor thanks to an open atrium. To continue their journey into Richard Mille's world, guests use the modern broken glass and mirror stairs leading to the first floor, which opens on a transparent glass workshop and also features a VIP lounge with a bar.
Other classic Richard Mille cues include an oversize Richard Mille timepiece engraved in multiple layers of glass frontage and 'broken glass' walls welcoming the guests from the entrance. Once inside, the atrium leads to a second room which features a library containing the Richard Mille book collection published by the Parisian publishing house Éditions Cercle d'Art, a company belonging to the Richard Mille Group.
Passionate Richard Mille wearers and collectors will discover a selection of the brand's finest timepieces, from Ladies' and Gents' automatic and tourbillons, to sports pieces developed in partnership with the friends of the brand.
The Richard Mille boutique is located at Pereulok Stoleshnikov 14/1 and is open from Monday to Sunday from 11:00 to 21:00.