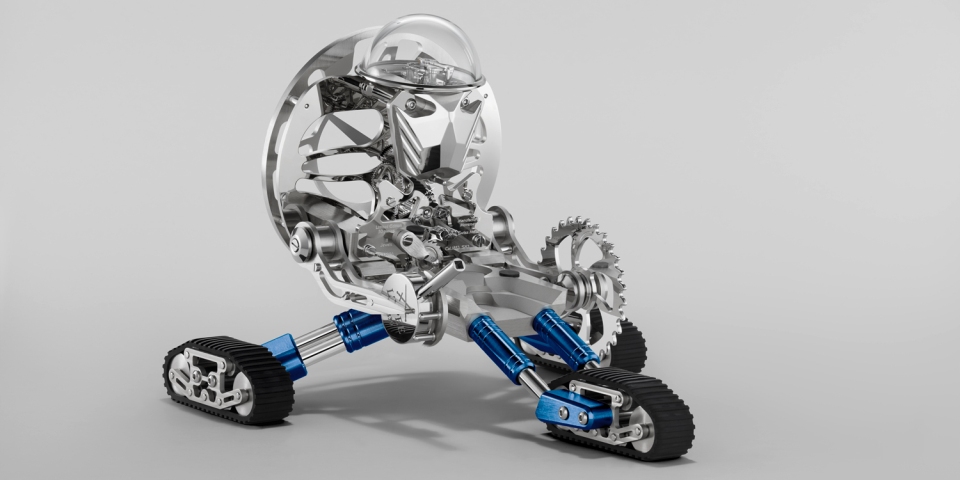 MB&F and L'Epée 1839 present Grant, a triple-tracked, MadMax-cross-Transformer robot clock on a mission
Grant is a robot with a time display on his shield and a mission to slow things down when time runs too fast. There are no incessantly flashing digital numerals on Grant's shield, no constantly spinning second hand. Grant transforms frantic chaos into relaxing hours and minutes, and that's all the time you really need.
Although Grant's time moves relatively slowly, he can travel quickly over rough terrain (or the messiest desk) on his three operational rubber tracks. Grant can also has three different modes: lying horizontally over his chassis for a low profile; crouching at 45 degrees; and sitting up 90 degrees.
For a comfortable and optimal viewing angle, Grant's time shield can be adjusted.
Under the transparent mineral glass dome on Grant's "head", the clock movement's regulator – consisting of the balance and escapement – features an Incabloc shock protection system to minimise the risk of damage when the clock is moved or transported. Shock protection is standard in wrist - watch movements; however, it is unusual in clocks, which are generally stationary. But then Grant is no stationary clock; he is a robot on a mission to transform time.
Grant comes in three limited editions of 50 pieces each in Nickel, Black and Blue.
For more information visit