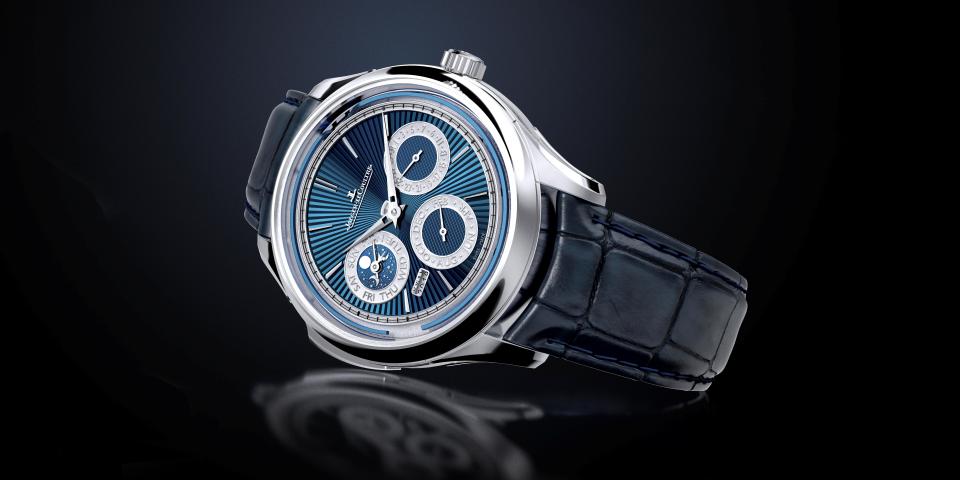 Following the success of the Master Grande Tradition, Jaeger-LeCouture has channelled the elegance of antique pocket watches with its latest chiming model — the Master Grande Tradition Répétition.
Utilising the brand's extensive in-house experience in chiming watches, the model features an innovative gong system set to revitalise the long-lost charm of its horological ancestors. With an unwavering focus on power and beauty, two gongs slowly travel around the watch's circumference, almost making a complete rotation before arching upwards, stopping just before they meet. Evolving the classic design of chiming watches, the Master Grande Tradition Répétition's calibre 950 boosts its capacity for sound transmission, boasting two lower and higher-pitched gongs for a full, harmonious sound.
Another notch on the watch's tehcnological belt is Jaeger-LeCoultre's unique approach to perpetual calendars. On the topic, a spokesperson for the brand explained, "Perpetual calendars are among the most practical and useful mechanical complications that can be incorporated into a timepiece. Their ability to display the correct calendar information, taking into consideration the varying lengths of the months — even during leap years — provides everyday convenience for the wearer, especially when combined with an automatic winding system for low-maintenance upkeep when worn regularly."
Steering clear of the traditional hand-wound approach, the Master Grande Tradition Répétition features an automatic minute repeater, embellished with a chamfer of satin finish and decorated with côtes de Genève for a regal and dazzling effect.
With a diameter of 43mm and height of 13.72mm, the Master Grande Tradition Répétition takes pride in housing a handful of bespoke features within a compact space. The watch is comprised of more than 80 separate hand-finished parts, all of which have been polished satin-finished or sandblasted accordingly. Taking pride in the tiniest of features, external components have been given a sandblasted finish to remove the risk of picking up oils from human skin, alleviating the awkward blemishes of watchmarks on your wrist.
For more information, visit the Jaeger-LeCouture website.