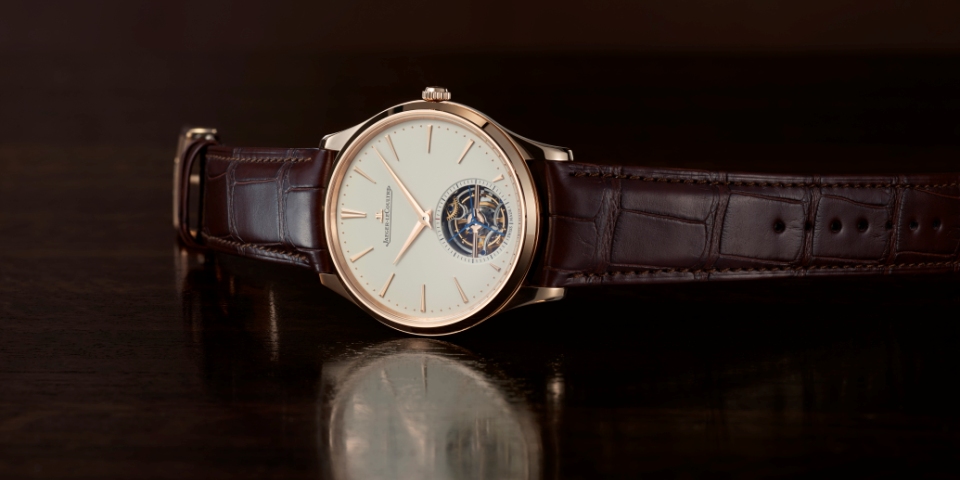 Amidst several new additions to its vast repertoire of watches, Jaeger-LeCoultre has launched the Master Ultra Thin Tourbillon watch in pink gold.
A watch tailored to connoisseurs, the Master collection embodies elegance with its rounded face, sleek design and focus on the small details which make a watch appear timeless (no pun intended). Upholding the same high standard of functionality and finesse, the Master Ultra Thin Tourbillon features a moving titanium carriage and Dauphine hands for a precise, polished finish. Measuring in at just 10.77 millimetres, the mechanical watch is made with 271 individual parts and has a 48-hour power reserve when fully wound.
Rose gold has quickly gained momentum as a front-runner in the fashion industry, first reaching the mainstream market in 2012 in the form of high-end jewellery. What followed was a plethora of designers channelling luxury with the regal gold tint, eventually reaching its peak with Apple launching the rose gold iPhone 6S line in September 2015. Similarly, pink managed to battle off gender stereotypes to become a staple shade for men and women alike, with millennial pink being held in high regard as the colour of the year of 2018.
Jaeger-LeCoultre's pink gold case works harmoniously with a brown alligator leather strap for a delicate blend of masculine and feminine features. Likewise, the model's honed silhouette makes it easier to tell the time, while also turning heads with its gold bridge, tapering off at six o'clock for a sleek, contemporary twist on the classic timepiece.
The Master Ultra Thin Tourbillon watch in pink gold is currently selling for $83,526, and can be found on the Jaeger-LeCoultre's website.