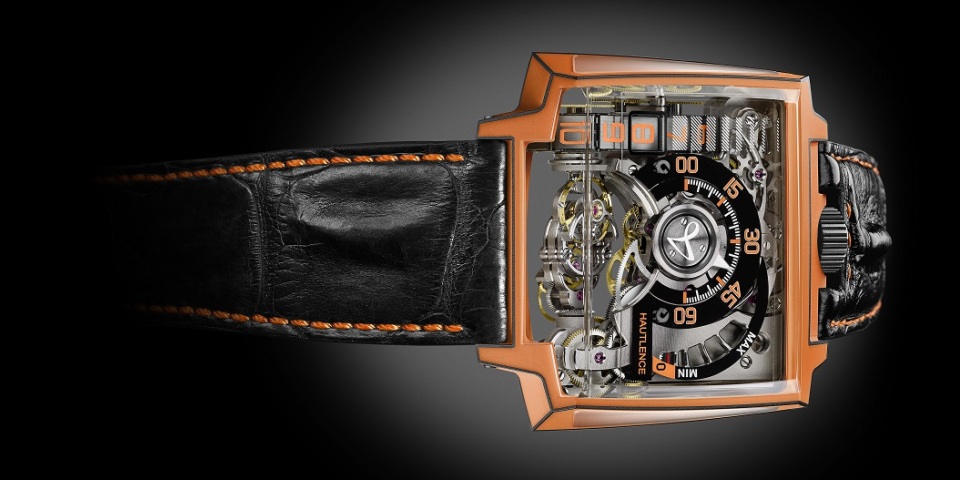 The Vortex Gamma Magma. (Photo: Hautlence)The Vortex Gamma Magma model from Hautlence has selected a revolutionary composite material borrowed from the automotive and aerospace industries
HLLightColor features ceramic nanotube particles, and its properties are identical to those of a conventional watch industry metal; highly durable, yet four times lighter than titanium.
Alongside the HLLightColour, the Vortex Gamma Magma case is made from six three-dimensional sapphire crystals. Hautlence has taken inspiration the TRON style by accentuating them with a play of striking contrasts. This will be emphasised by the architectural lines of the Vortex case.
The visual effects present luminescent shapes representing integrated circuits, Hautlence has emphasised the edges of its case with a black line.
The minute dial, made from almost entirely transparent sapphire, offers a large window onto the HL2.0 self-winding calibre which drives the Vortex Gamma. Orange, the unifying feature of this model, is found on each of the 12 articulated links in the hour chain, a key function of the movement.
The second barrel, dedicated exclusively to driving the complication, is continually reset by the main barrel, so that the optimal level of energy is available each time the hour changes. This double barrel system ensures the complex mechanisms are supplied independently, without affecting the ability of the watch to keep accurate time.
With the Vortex Gamma Magma, Hautlence has created an haute technologie watch, with a bold, striking design, and a high-tech mechanical heart.