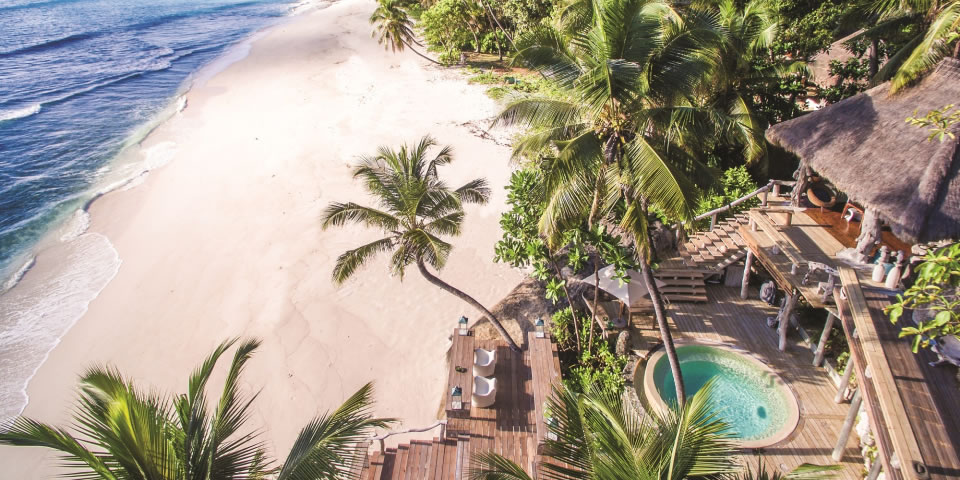 The Luxury Collection has broadened its horizons with the signing of North Island, the main and largest island in the Seychelles.
A 15-minute helicopter transfer from Mohe Island, North Island is anticipated to join the Luxury Collection's portfolio of world-class hotels later this year as the first property in their ASMALLWORLD (ASW) Hotel Collection.
Brimming with sandy beaches and surrounded by the ocean, North Island resort features 11 4,890-square foot private villas, giving guests plenty of space to explore the island at their leisure.
Part of Marriott International LTD., The Luxury Collection's resort will feature a lounge, dining room, spa, gym, infinity pool, sunset bar and restaurant, as well as a library containing a natural history collection marking the island's decorated past. The library will be home to a plethora of books and artefacts, marine life presentations and environmental programmes.
In keeping with the island's natural beauty, each room features locally sourced wood, stone and glass handcrafted by Seychellois and African islands. Topped off with thatched roofs, each villa is a delicate blend of local culture and first-class decadence.
Speaking of the Seychelles property, Anthony Ingham, global branch leader for The Luxury Collection said, "The Seychelles is a true Luxury Collection destination, and one that we have been keen to offer to global explorers for quite some time.
"Home to some of the world's most beautiful islands, with endless white sand beaches and coral reefs, lush mountain rainforests and rare animals, The Seychelles archipelago is an untouched paradise with over 115 islands to discover. The Luxury Collection is thrilled to announce the joining of North Island later this year; one of the most exclusive and exotic locations in the Indian Ocean."
For more information visit The Luxury Collection's website.