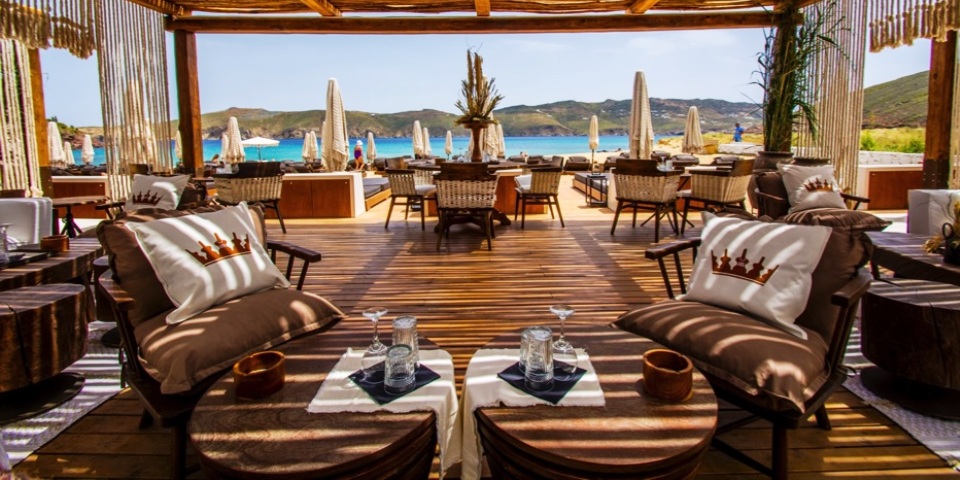 Principote Beach Club is situated on picturesque Panormos Beach in Mykonos, Greece
The venue features a deck area that is perfect for cocktail parties and a spacious beach area where guests can relax while taking the breathtaking views of the Aegean Sea.
Mykonos offers long stretches of sandy beaches, uninterrupted views of the glistening Aegean Sea and some of the best food and drink in the Mediterranean.
A VIP hotspot, celebrities including England footballer Dele Alli, Prison Break actress Tasya Teles and model Yovanna Ventura have all been spotted at Principote.
The Principote beach restaurant offers fresh and delicious Mediterranean-fusion dishes with a wine list that promises to satisfy even the most discerning connoisseurs. Find your ideal bed on the beach and take in the sights, sounds, smells and sensations of Panormos. Indulge further in refreshing, hand-crafted, signature cocktails from the mixology masters at the bar, or a rejuvenating beach massage. This is what a beach holiday is all about, after all.
For those who love their shopping, the exclusive Principote Boutique, stocks the latest lines from Emporio Armani, Michael Kors, Ralph Lauren and Stella McCartney. From 4pm, guests can dance the night away as the resident DJ spins the best ethnic and mainstream tunes.
Principote is the beach club is perfectly located in a prime area of Mykonos making it definitely worth a visit.