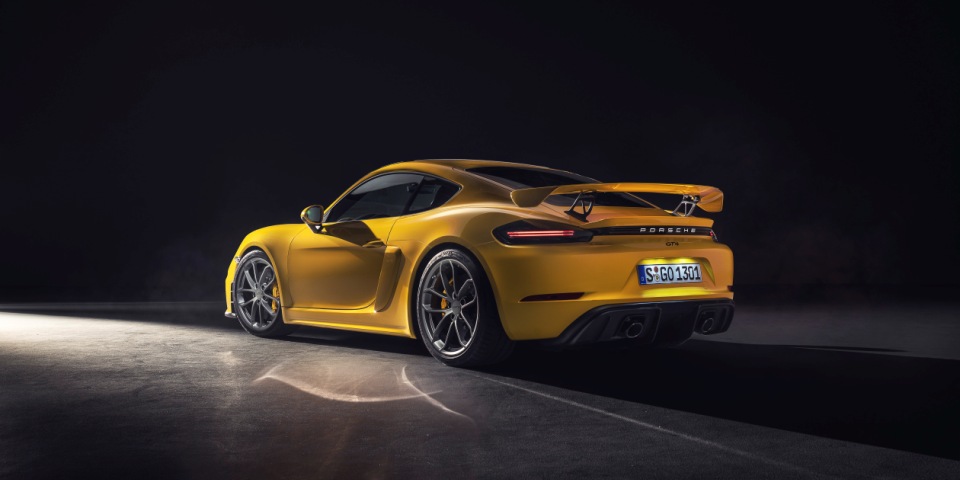 Porsche Motorsport has unveiled new 718 Spyder and the 718 Cayman GT4 that appeal to sports car enthusiasts who take delight in undiluted driving experience and appreciate a high level of dynamic agility and an intimate relationship with the road
For the first time, the 718 Spyder and the 718 Cayman GT4 share a technical base. This includes a newly-developed, four-litre six-cylinder naturally aspirated engine, combined with a six-speed manual transmission. The boxer engine generates 420 PS (309 kW) in the models.
High-revving and highly emotional naturally aspirated engine
At the heart of both models is the new four-litre six-cylinder boxer engine. The naturally aspirated engine is based on the same engine family as the turbo engines in the current 911 Carrera model series.
The new high-revving, 420 PS power unit generates an additional 35 PS over the predecessor GT4 model. In the case of the third generation Spyder, this model has 45 PS more. The engine delivers maximum torque of 420 Newton metres between 5,000 and 6,800 rpm. Each car features a six-speed manual transmission, for optimal driver engagement.
The fascinating character of this naturally aspirated engine combines a modern gasoline particulate filter emission control system with the linear power delivery and the immediate response of a GT engine. It has a maximum engine speed of 8,000 rpm. The unparalleled flat-six sound remains untouched. New additions include technical highlights such as adaptive cylinder control; in part-load operation, it temporarily interrupts the injection process in one of the two cylinder banks, thus reducing fuel consumption.
Aerodynamic efficiency: more downforce, without increasing drag
Among the striking features of the 718 Cayman GT4 is the comprehensively improved aerodynamic design. The car produces up to 50 per cent more downforce, without adversely affecting aerodynamic resistance, or 'drag' – proof of outstanding efficiency.
The aerodynamics of both models benefit enormously from the newly designed single-chamber arch rear silencer: it creates space in the rear underbody for a functional diffuser, which accounts for 30 per cent of the downforce acting on the rear of the 718 Cayman GT4. The fixed rear wing is also distinguished by its greater efficiency: it produces around 20 per cent more downforce compared with that of its predecessor. This corresponds to an additional downforce of twelve kilograms at 124 mph (200 km/h).
One new feature is that the 718 Spyder now runs on ultra-high-performance (UHP) tyres specially adapted by Porsche. They are part of the overall package that makes the 718 Cayman GT4 fly on the Nürburgring Nordschleife: its lap time around the 20.6-kilometre legendary race track is more than ten seconds faster than its predecessor.