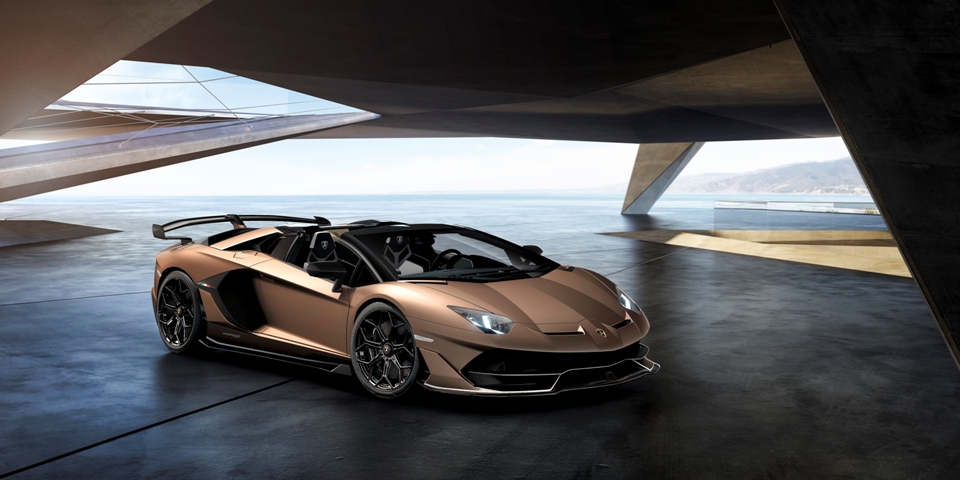 Taking pride of place at Europe's biggest motor show, Automobili Lamborghini premiered the Aventador SVJ Roadster: a sports car designed for thrill-seekers and motor-heads alike.
Maintaining the sleek driving experience of the SVJ, Lamborghini's latest model is a futuristic feat influenced by the cutting-edge ergonomics of spaceships, jet fighters and motorbikes. the Aventador SVJ Roadster has been built with the fun-to-drive experience at its core, boasting a jaw-dropping exterior, a removable carbon fiber roof (which can be stored in the front hood),and enough horsepower to make Lewis Hamilton blush.
Fitted with super-light aluminium rims, the Aventador SVJ Roadster's rear-wheel steering adds an extra element of command as you take the wheel; blending speed with stability and comfort with agility on transit. Inside the cockpit, a navigation system and infotainment system to keep you en route and entertained on transit. An AppleCarPlay option is also available free of charge, allowing passengers to manage voice activated communications from their Apple devices.
Lamborghini showcased the model in a regal bronzo zenas (bronze) shade, but the car itself can be custom-coloured in almost 350 different shades. Likewise, every leather and Alcantara part of the car's interior can be customised to suit your style.
Speaking of the model, Stefano Domenicali, chairman and CEO of Automobili Lamborghini, remarked, "The Aventador SVJ Roadster inherits all the power, performance and ground breaking aerodynamic technologies of the coupé, but with its own iconic presence and prowess.
"It is as fundamentally exciting to drive as the Aventador SVJ but with an added exclusivity: the option of the open air. With the same extraordinary performance roof on or off, the Aventador SVJ Roadster incorporates the dynamism of the coupé with the unique spirit of a Lamborghini Roadster."
Lamborghini Aventador SVJ Roadster is expected to hit the streets this summer, with a suggested retail price of $573,966 (GGT excluded).
For more on the Geneva International Motor Show, look out for the next issue of Elite Living Africa.