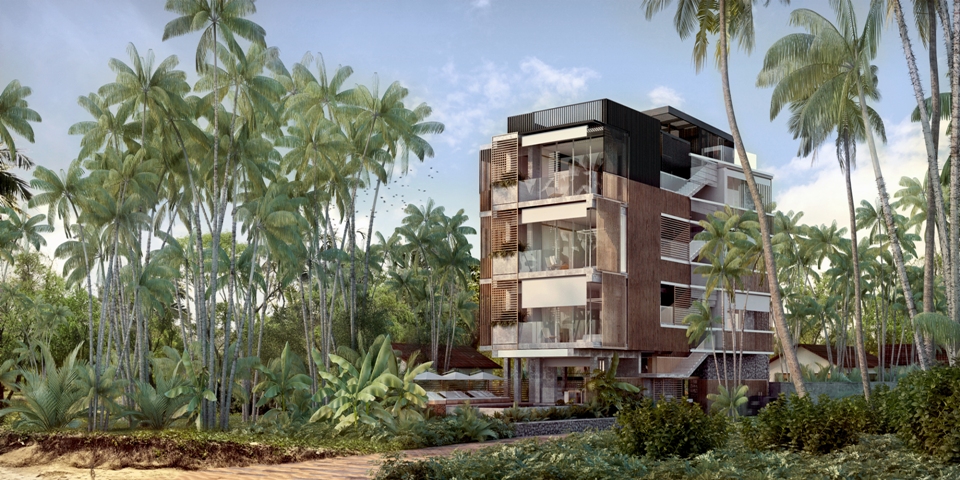 The first Harding Boutique Hotel, located in Ahangama, Sri Lanka is set to be the hottest hotel opening of 2019
The six-suite luxury boutique hotel, a new venture from a Sri Lankan-Australian entrepreneur Paul Harding, is set to welcome its first guests in autumn 2019.
The property's architecture and interiors are inspired by Sri Lanka's vernacular modernist movement and are designed by British architect Jonathan Ashmore, founder of the award-winning design and architecture practice; ANARCHITECT, based in Dubai and London.
Harding and Ashmore connected through a shared admiration for Sri Lanka - its rich landscape, cultural diversity and natural hospitality. Harding's entrepreneurial vision and ANARCHITECT's international expertise, contextual acumen and focus on materiality created a unique synergy, resulting in an outstanding new hospitality and leisure destination for Sri Lanka's southern province. It is ANARCHITECT's first Sri Lankan project and Jonathan Ashmore's unique nod to the Tropical Modernism.
"The new property lies amongst dense coconut groves to the East and West, ocean and beach frontage to the South and a dynamic local community to the North. It was important for us that the Boutique hotels design responded on all four elevations in equal measure through a clean, contemporary and modern aesthetic. It is visually calm amongst the organic and wild nature that surrounds it and contextual and environmentally responsive through its materiality and natural openness and permeability," commented Ashmore.
The property features well ventilated, wide, open spaces – suites with generous private balconies and uninterrupted views over the Indian Ocean, sea-facing private baths, rain showers, double vanities and king beds wrapped in luxurious Egyptian cotton linens. The rooms are elevated amongst the natural palm groves, seamlessly connected with their surroundings of the breath-taking ocean views and tropical landscape.
The roof terrace and the staircase leading onto it, wrapped in lush foliage, are the hotel's pivotal architectural features, defining the building and creating a deeper connection to the ocean. The exclusive nature and boutique scale of the hotel inspired ANARCHITECT to create hidden away moments such as intimate seated nooks on the mid-landings of the central open-staircase. These spaces are both contemplative and social, organically inhabited by guests and visitors at their own leisure as they ascend towards the open-air roof terrace with its three-hundred and sixty-degree views over the palm tops.