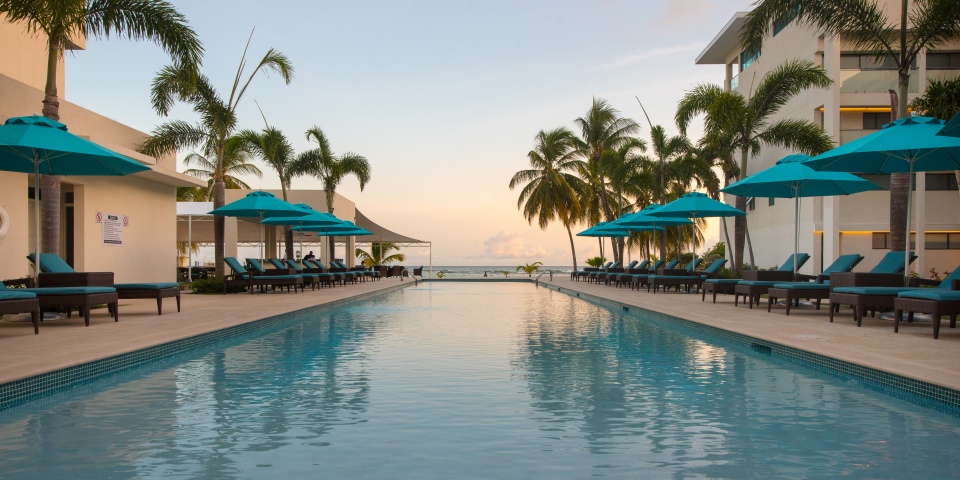 Barbados' newest hotel, The Sands Barbados, opens this month bringing stylish Condo – Hotel living to the South Coast of the island.
Situated directly on a stunning white sandy beach, in one of the island's most enviable locations, the brand-new all-inclusive resort seamlessly blends contemporary style with a cool Caribbean vibe.
The 153-room, oceanfront property features a luxury pool with sea views, a rejuvenating spa, fitness gym, two restaurants, two bars, and a variety of non-motorised water sports.
Cool off in the crystal-clear waters of the Caribbean Sea or swim some laps in the hotel's feature pool. Try your hand at a variety of non-motorised water sports including kayaking, body boarding, snorkelling and free scuba lessons in the pool.
Pamper at the spa and salon with a range of skin treatments, wraps, massages and beauty treatments or pick up the pace at the hotel fitness gym.
Tantalise your tastebuds at the hotels' two restaurants serving local Caribbean and International dishes including Noir, the speciality roof deck a la carte restaurant by celebrated Barbadian chef Jason Howard. Jason, came to our screens as a quarter finalist in the UK's favourite TV show Masterchef The Professionals and specialises in modern Caribbean cuisine, combining his love of native Caribbean ingredients with his classical French training gained as sous chef at the two Michelin-starred Connaught Hotel in Mayfair.
Enjoy a sundowner at the stylish beachfront bar or sample some local rums and sip on some cocktails at the late-night bar.
At the end of a hard day baking in the Caribbean sun, relax in your large, stylish, modern room with either pool, garden or oceanfront views. Room types include studios, one- two- and three-bedroom suites – both single level and duplex – and penthouse suites.
TUI is offering seven nights at the new four-star 4T The Sands resort costs from just £1,374 per person on an all- inclusive basis. This price is based on two people sharing and includes return direct flights from London travelling on selected dates in June 2020 and transfers. To find out more about this holiday or to book go to tui.co.uk, visit your local TUI holiday store.
For more information on the resort visit www.thesandsbarbados.com