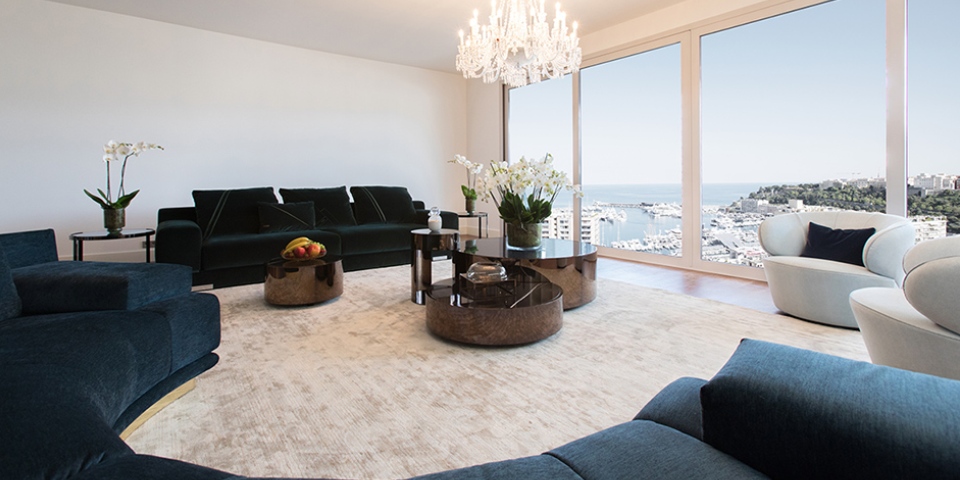 Sabrina Monte-Carlo collaborated on a new real estate project in the heart of Monaco, with the local agency López de la Osa & Franco Real Estate
Sabrina and her team have been able to design an intimate and cosy setting, using neutral shades and experimenting with different styles to appeal to the greatest number of visitors. The challenge is also to create a "coup de coeur" from the very first steps.
Step into the dining room, you will find a Fendi black lacquered table with chrome legs - surrounded by six matching beige fabric chairs, with lateral inserts and bronze feet - seems to dance in the middle of the room, very symmetrically surrounded by two diamond-shaped cabinets and two consoles, all black lacquered.
The 80 sq m living room is furnished with two Fendi sofas in dark velvet - marine and forest green - surround a coffee table which features four rounded parts, with black marble top and bronze polished stainless steel structure.
A blend of dark colours and soft materials soothes this beautiful very bright room.
In the master bedroom velvet is used throughout in shades of beige, green and blue, which counterbalances the bronze-coloured metallic finishes of the furniture and lamp bases. A small teal sofa, and its moss green cushions, accompanied by its sand lounge chair, add the finishing touches to this the room.
Elegance and comfort are the key words that describe at best this apartment currently open for visits.