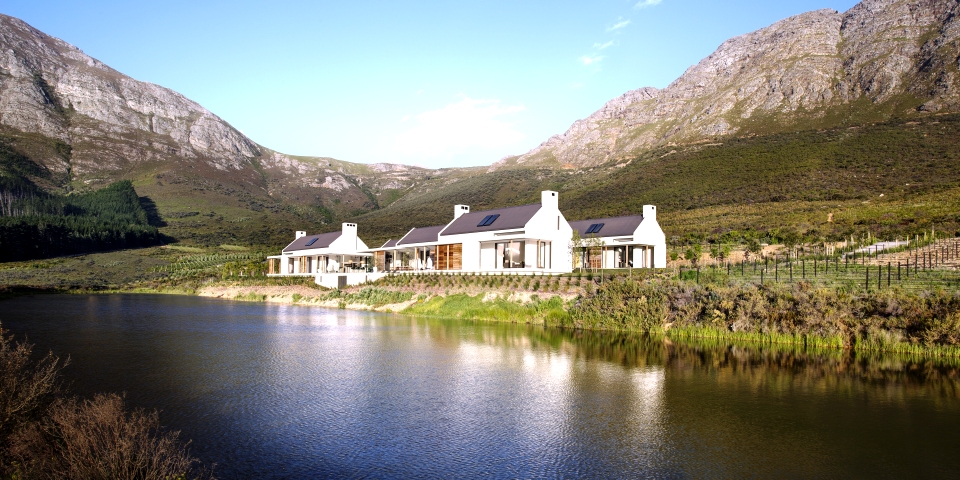 Located only 75km away from the cosmopolitan city of Cape Town, Franschhoek the "French Corner" is one of South Africa's most beautiful historical attractions. In the heart of this quaint town lies this masterfully designed home by architect Richard Townsend.
A modern interpretation of the Cape vernacular style, this property is centred around a living space off which radiates a series of private 'pods' offering luxurious accommodation and generous recreation areas.
The home is open-planned and configured over a number of different levels. The heart of this retreat is accessed via an impressive double-volume entrance hall, with a spacious communal living and dining room area leading out to an extended terrace, pool deck and 14m swimming pool.
The Franschhoek Valley is known as the fine food capital of the Cape. With multiple dining areas, both inside and out and a state-of-the-art family kitchen, this home pays homage to Franschhoeks' culinary reputation.
The living areas are linked by walkways with gallery spaces and covered terraces, including a series of enclosed zen-like tranquil courtyards. In every room, the oversized glazed panels frame unrestricted views of the magnificent Franschhoek Valley and mountains beyond. Everything about this home truly captures the beauty of Franschhoek.
- 7 Bedrooms
- 7 Bathrooms
- Chef's kitchen, cold room and utility room
- Study
- Staff room
- Swimming pool
- Stunning views
Read more about Pam Golding Properties in the latest issue of Elite Living Africa:http://www.elitelivingafrica.com/current-issue