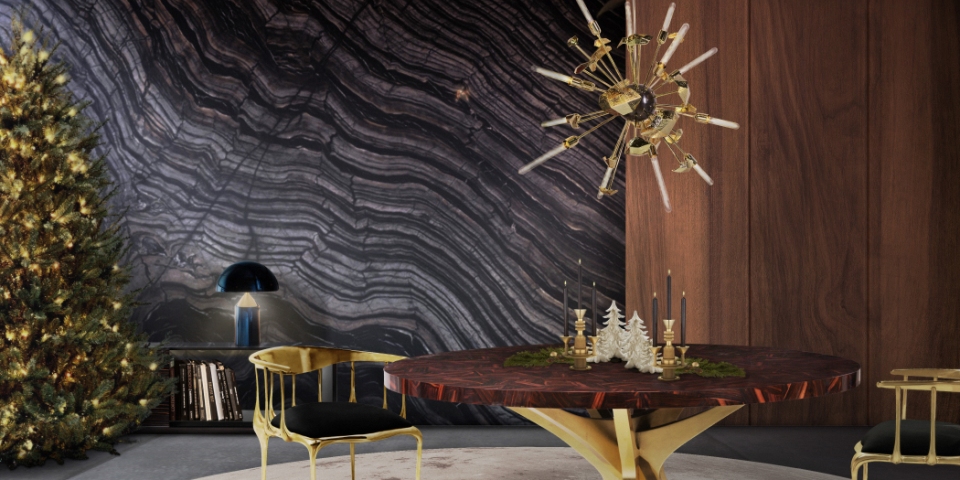 Boca Do Lobo has introduced luxury exclusive design for furniture collection
Filigree Mirror: The Filigree Mirror resorts to one of the oldest jewellery making techniques known. A true work of art, this luxurious mirror plays tribute to Boca do Lobo's core values heritage and craftsmanship.
Gold Folding Screen: Possession of furniture with gold and silver leafing symbolises wealth and prosperity. It was a status symbol in those ancient times that inspired our present furniture makers who adopted the concept of gold leafing.
Cubic Sconces Big: Minimal Maximalism is the reflection of a harmonious symbiosis between different concepts of beauty, styles and inspirations. The designs come to be eclectic but also Minimal; bold but always elegant; gold but with simpler traces.
Supernova Chandelier: Supernova Chandelier was born from the cataclysmic explosion of a massive star. The suspended brass particles of Supernova Chandelier will offer you a timeless, brightest and magnificent setting.
Emporium Chair: The Emporium chair is designed in a classic form, with distinctive design elements and a unique Boca do Lobo touch. Drawing inspiration from the surrealist movement, cast in a unique shape with intricate details, this exclusive chair radiates a sense of fun, yet maintaining its sophisticated character.
Nº 11 Chair: The Nº11 Chair was carefully developed to enhance your dining experience, providing you with the best quality seating solutions. Handsomely crafted from solid brass, this modern chair is also available is three different colors, combining an avant-garde approach with classic and emblematic lines.
Nu Chesterfield Armchair: The inspiration of this classic leathered sofa is rooted back in 1800'. There's something intrinsically luxurious and old fashioned about the chesterfield products.
Sinuous Console: Boca do Lobo is an exclusive design furniture company that transcends the fusion of traditional and contemporary design. With Sinuous Patina Console you will successfully create a luxurious environment. Sinuous lines draw the elegant character of this console, gathering the styling of the best sellers of Coolors Collection.
Lapiaz Center Table: Lapiaz inspired this unique coffee table. The french word is the name given to the typical karst formations produced by surface dissolution of limestone or dolomite rocks. It can also be caused by freezing and thawing in cold climates. This is how Lapiaz luxury coffee table emerged.
Patch Table: Boca do Lobo's exclusive Patch Table has intricate wood veneer top and sculptural base for adding sophistication to any kind of home setting. Patch table fits on a contemporary living room or on a sophisticated kitchen.
Symphony Sideboard: The Symphony Sideboard draws inspiration from church organ tubes, as well as the curves of violin. It features a cluster of polished brass tubes envelope an exotic wood structure, creating a harmonious artful juxtaposition to rhythm of the pipes.
Knox Watch Winder: Knox represents an entrance point into the world of elite collectors. The watch behind the glass is enveloped by the perfect scenery to be exhibited as a true artwork.
Empire Center Table: The Empire Center Table is to find itself in the very heart of the most memorable of events and celebrations. It begs meaningful conversation and years of toasts, symbolising the union of friendship and the celebration of life.
Royal Snooker: Based on one of our prime dining tables, the Royal Pool Table boasts bold lines and unique patchwork, which are enveloped by baroque details and a minimalist faceted edge.