.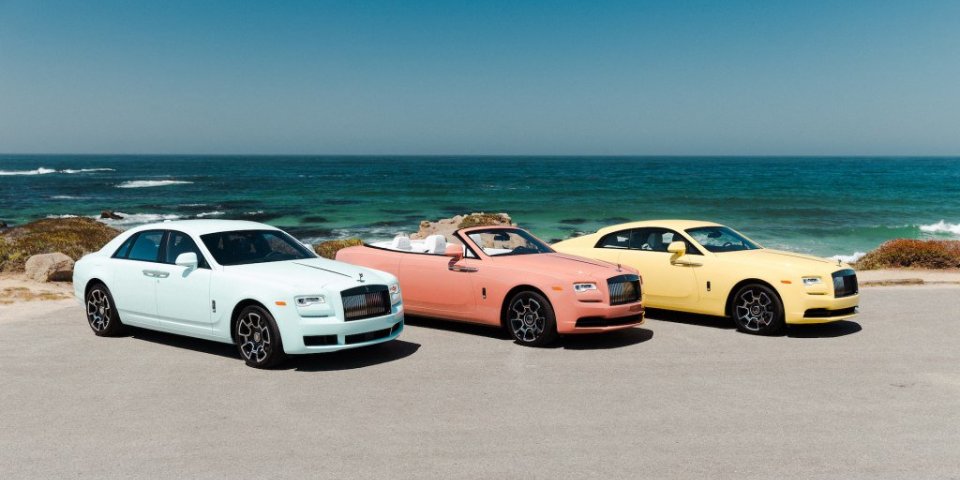 On the sunny sands of Pebble Beach, Rolls-Royce rolled out its most colourful collection yet, which includes 13 beautiful bespoke commissions offered exclusively for clients attending Monterey Car Week 2019. Inspired by the hills, sand, and sea surrounding Pebble Beach.
The 'Pebble Beach 2019 collection' features a shimmering black diamond and gold bespoke exterior and the rolls-royce phantom gallery on the inside. the gallery is designed to house personalized art making the phantom an extension of its owner's art and design collection.
The Pastel Collection' showcases the creative color capabilities of the artisan designers in Goodwood, Home of Rolls-Royce. The Pastel Collection draws upon painter's palette of colors from this year's 'wildflower superbloom' on the Monterey Peninsula. The collection includes three one-of-one Black Badge Commissions adding new colors to the Rolls-Royce Bespoke palette and reaffirming the idea that a Rolls-Royce Black Badge doesn't have to be black.
"Each and every commission has been created by the designers and craftspeople at the Home of Rollys-Royce at Goodwood, working with the finest leathers, wood and precious materials. It's thrilling to introduce the 2019 Pebble Beach Collection, as the world gathers to view the classics the brand has created over the past 115 years.", Said Martin Fritsches, President of the Rolls-Royce Motor Car North America.
To read more about the release , visit www.bit.ly/2vBHYJg