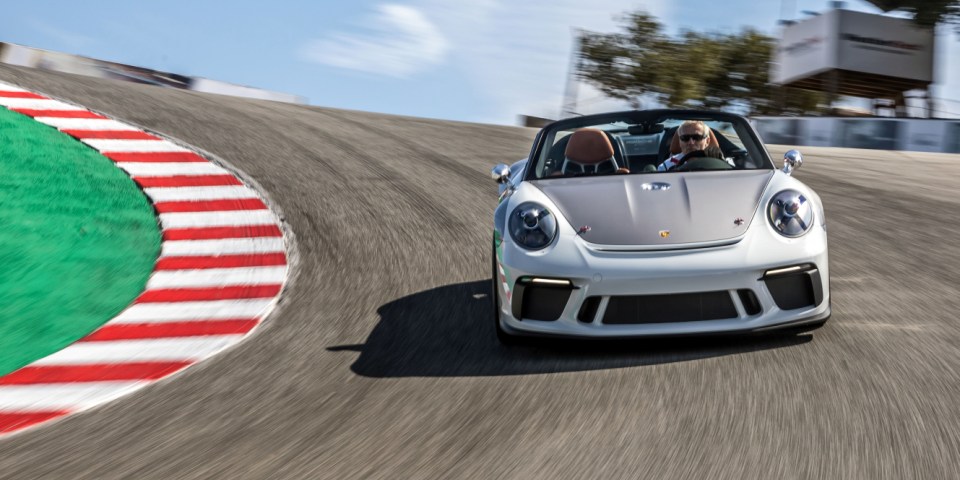 The Porsche 911 Speedster Concept again receives an enthusiastic welcome at its third public appearance and the open-top concept car is now celebrating its premiere before the US public at the Rennsport Reunion VI in California.
The 911 Speedster Concept is based on the current 991 series and also offers a preview of a potential new equipment range from the Porsche Exclusive Manufaktur. With the Heritage design packages, the Stuttgart-based Sports Car manufacturer will provide a modern interpretation of the distinctive themes and colours of its Sports Car history from the 50s, 60s, 70s and 80s.
In addition to the 911 Speedster Concept, Porsche is presenting another unique product at the Laguna Seca Raceway as part of Rennsport Reunion VI: the Porsche Design '911 Speedster' concept chronograph. A decision about a possible series-production version of the 911 Speedster Concept will be made very soon.
With a purist concept, the two-tone drivable concept car – probably the best present Porsche has given itself for its anniversary – reflects the brand core of the Stuttgart Sports Car manufacturer in precise clarity and historically accurate design. It was developed at Porsche Motorsport in close cooperation with Style Porsche and the Porsche Exclusive Manufaktur. It is powered by a flat-six engine with more than 500 hp. It does without turbocharging and achieves engine speeds of up to 9,000 rpm. This power is transferred to the rear wheels by a six-speed manual transmission. The development focus was on a pure driving experience.
Strong partnership: Top performance meets fine craftsmanship
The cooperation between Porsche Motorsport and the Exclusive Manufaktur for the 911 Speedster Concept – as the first glimpse of a forthcoming Heritage design strategy – has historical roots, as the two divisions have the same origins. Porsche Exclusive once fulfilled special requests from racing customers, such as the legendary 935 Street, designed with a flat front end.
Tribute to a dream: 911 Speedster concept chronograph by Porsche Design
Porsche Design has created a special timepiece for the new 911 Speedster Concept: the '911 Speedster' concept chronograph. Just like the vehicle, it is initially a one-off; subsequent production is currently under consideration. The chronograph case is made of a lightweight titanium. The matt-black dial – similar to the instrument cluster of the 911 Speedster Concept – is characterised by its excellent readability.
Looking back: Speedster models from Porsche made their debut 66 years ago
Various Speedster models have been part of Porsche company history since 1952. They combine open-top driving pleasure with outstanding driving dynamics. The forefather of these models is the 356 1500 America Roadster, whose aluminium body was manufactured by hand. It weighed 60 kilograms less than the 356 Coupé and its top speed of 175 km/h (108 mph) from its 70 hp flat-four engine was impressive at the time.