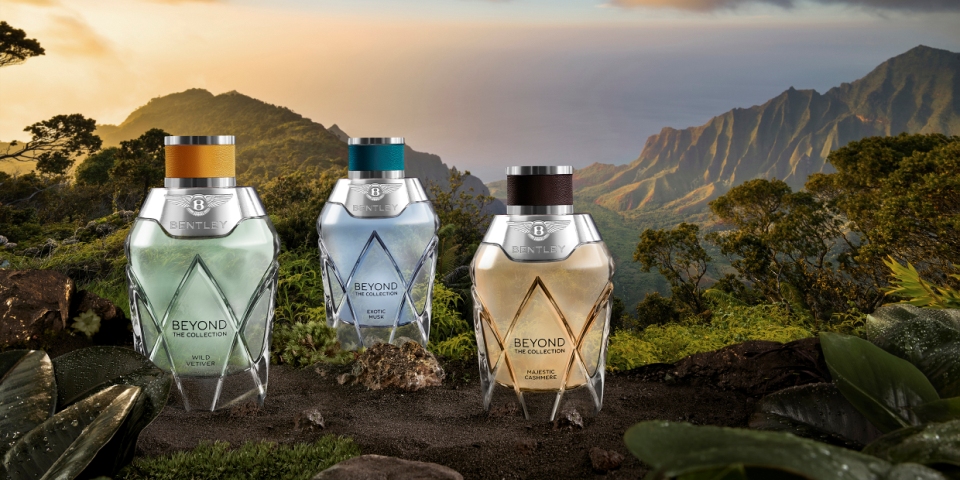 Bentley has moved into the fast lane with the launch of its first collection of fragrances for men and women: Bentley Beyond.
The legendary car company cites lust for adventure as one of the most significant traits in the brand's identity; a characteristic which has been brought to life through the exotic scents of Bentley Beyond. All three fragrances in the collection has been composed by a trio of young master perfumers in order to channel the sun-kissed beaches and cultural significance of different bohemian destinations.
Made with white wood, tonka bean and ambery woods, Exotic Musk musters up the electricity of enjoying drinks and dancing in the coastal city of Acapulco. Known as Mexico's original party town, Bentley's fragrance (composed by Mathilde Bijaoui) bottles the serenity and sensuality of Central America's fiery Pacific coast hotspot.
Likewise, donning an adventurous amber and plum packaging, Majestic Cashmere bares notes of incense, coriander, bourbon and cashmere woods to evoke the Indian coast of Goa. The state's serene beaches and variety of different cultures (adopted during the region's 500 year occupation), Goa has established itself as a proud boho haven for hedonists and sun-seekers alike, with perfumer Julie Massé immortalising the region's Arabian charm within Bentley's collection.
Between Sumatra and Bali, the volcanic island of Java has been brought to life by Bentley's Wild Vetiver. The fragrance (created by Sidonie Lancesseur) contains pepper, amberwood and birch, as well as vetiver, a native grass used in top-notch fragrances across the market, in order to encapsulate the Indonesian island's vibrant rainforests and ancient stone temples.
In collaboration with the Bentley styling team, each fragrance in the collection has been carefully crafted in keeping with the brand's range of luxury cars. Each bottle boasts a hand-stitched leather cap created to evoke a car's interior, as well as the iconic Bentley emblem on its metal shoulders for a regal, elegant finish.
Each 100ml bottle in the Bentley Beyond collection is selling for US$218. For more information, visit the Bentley website.