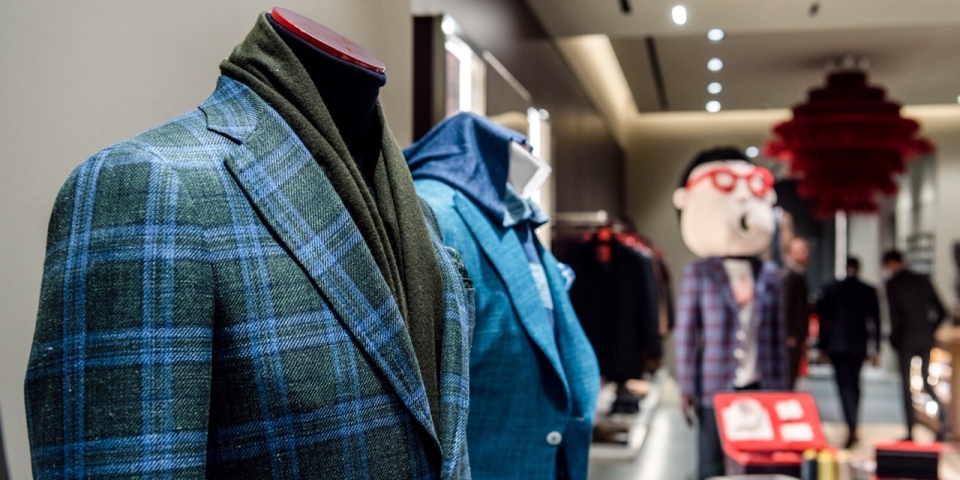 First founded in the 1920s, tailoring company ISAIA Boutique has finally branched out to the UK with the opening of its first London store.
ISAIA has already opened stores across Europe, Asia and the US, but its latest endeavour hopes to bring a taste of Napoli to London's streets with the launch of its first shop in Mayfair, just off London's effervescent West End. Featuring the style icons of Bond Street and Savile Row, Mayfair is known as one of London's high-end hotspots, housing brands such as Jenny Packman, Stella McCartney and Paul Smith.
Designed by Ferrari Architetti, the shop features furniture and design elements inspired by the elegance and grandeur of the brand's native land, topped off by red embellishments including a regal grand piano. Amidst the collection of lavish jackets and graphic tees stands a hipster-esque mannequin with a comically oversized head and red-rimmed glasses, highlighting the unapologetic quirkiness at the heart of the brand's nearly century-old identity.
"I visited London for the first time in 1976, when I was 13 years old and have loved it ever since," remarked Gianluca Isaia, CEO of his namesake brand. "It was the hottest summer London had seen in years - and I like to think it was because I brought the sun with me from Napoli. London is truly one of the greatest cities in the world.
The history, sophistication, and of course, the love of tailoring, makes it the perfect place for ISAIA to have a home, we are honored to bring the art of Neapolitan tailoring to one of my personal favorite cities in the world," he continued.
For more information visit the ISAIA website.